Description
Which tracking units are best suited to my requirements ? 
Nano Unit: This unit is IP67 rated. It has two wires (positive & negative). Simply connect to the vehicle battery terminals, or power supply. Use this unit where the vehicle battery is always connected to the vehicle. Ideal for your collectables that are in regular use, your daily driver, and your family's vehicles.
The unit is supplied with full, simple fitting instructions, but if you wish to view a short install video, click here
MagTrack Unit: This unit is IP65 rated. Powered by its own internal 5 Year rechargeable battery, so does not need to be connected to the vehicles power source / battery. It is magnetic, & can be placed "covertly" anywhere in, or on the vehicle, even under chassis etc. 
The MagTrack unit is ideal for vehicles where the battery is left disconnected, or even on a non-powered asset such as a trailer etc.
How many tracking units can I request ?
You can request as many units as you require for your collectable vehicles, plus your daily driver, and also for your family's vehicles. These will all be available within your club App.
How long is the contract ?
As a valued club member, we are operating an "Easy in / Easy out" policy. Simply use the services for as long as you wish, monthly or annually, its entirely up to you. All we ask is when you wish to stop using the services that you let us know by sending us 1 months' notice via email, and return the units in working order. Please see Terms & Conditions at the Checkout stage.
Can my family members have their own vehicles in an App separate to mine ?
Yes, simply direct them to this site and have them select the units they require, and enter their own payment, address & contact details, but adding your club membership number for authorisation. They will then receive their own separate log in to the App where only their vehicles will be displayed for them.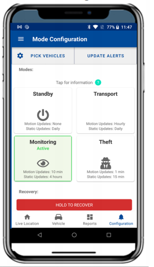 What is the Stolen Asset Recovery Network (S.A.R.N) and do I have to use the actual "Recovery" part of the service ?
In the event of a vehicle being stolen, you will of course have full visibility on the App of its live GPS location and tracking activity.

However, instead of recovering the vehicle yourself, should you wish to use our dedicated National Network of vehicle recovery operatives (effectively, a specialist private Security Force) then you have the option to request deployment of our operatives at a minimal one off cost of £395 + vat. Your vehicle is already registered on our S.A.R.N (Stolen Asset Recovery Network) so simply press "HOLD TO RECOVER" in your App, and our aim is to have the nearest operative securing your vehicle, anywhere in the UK within 1 hour of deployment.
"Recovery" is defined as our recovery agents tracking down and physically locating the vehicle, and securing the vehicle in order that the rightful owner can make / arrange collection.
As mentioned above, it is our aim to be making the vehicle secure anywhere in the UK within 1 hour of deployment, but rest assured, the one off recovery fee actually covers you for a full 24 hour vehicle hunt.
Please see full Terms & Conditions at the Checkout stage.